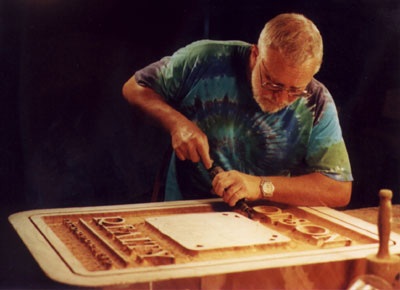 Fred Schlatter was educated as a fine artist and sculptor. Rarely will you find someone who produces the kind of work that he does. He is a Graphic Designer who is able to execute projects in wood and metal. His carved wood signs and architectural fine art wood carvings that are hand sculpted and often combined with wrought ironwork, have garnered international attention. Fred Schlatter's hand carved wood signs have also appeared in various publications, including Good Housekeeping's Country Living, Sunset Magazine, National Motorist and
SignCraft Magazine
. People tend to remember them better than average work.
Finely hand carved wood signs make up the bulk of his commissions, but he has also been privately commissioned to produce other carved architectural items such as doors and sculptures in addition to figureheads, name boards and transoms for private and corporate yachts.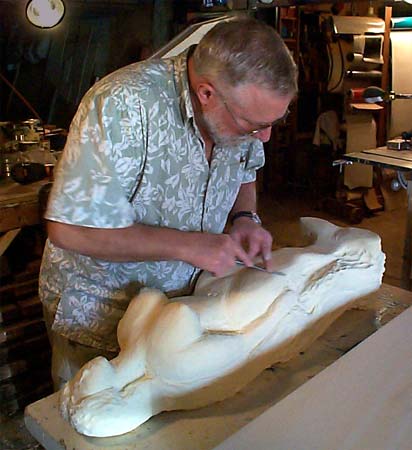 Due to their visual appeal, carved wood signs are well worth their cost for high profile projects. This could be especially true for businesses attracting upscale consumers, and tourists. Likewise, for private residences or professional offices, a commissioned door or carved wall piece can personalize a space for its occupant.
Aside from enhancing all the elements of brilliant architectural design, a beautifully sculpted sign or a handsome custom carved door or mural tends to make a lasting impression in the mind of the beholder.
Carved wood signs for visitor centers, gourmet restaurants, fine book vendors, bed and breakfast inns, premiere real estate offices, set designs, and architectural restoration projects are among the commissions he works on.
As a fine artist and sculptor, Schlatter has been helping his clients achieve the look of success with award winning sign execution and custom carvings for more than three decades.